About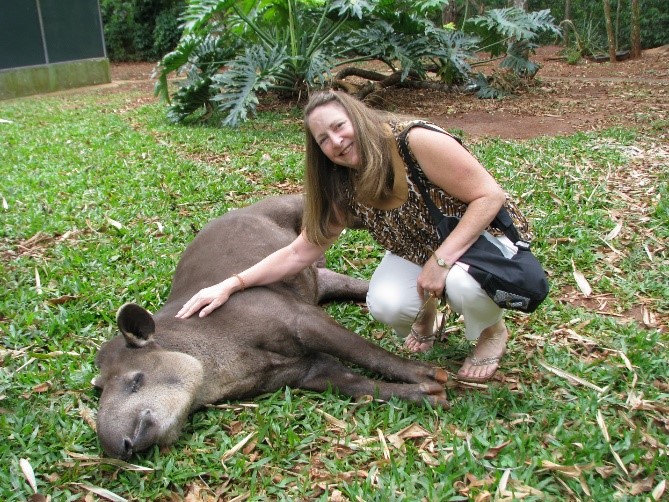 Dr. Ellen Dierenfeld has been working in the field of comparative animal nutrition for many years. Her interest started with exposure to wildlife pets (skunks, raccoons, alligator (bad choice), salamanders, turtles, rabbits along with routine domestic pets (dogs, cats, ducks, chickens) and livestock (pigs and lambs in our kitchen!) through growing up in Iowa with a large-animal veterinarian father. Studying Fisheries and Wildlife Biology initially, then transferring to Animal Science for undergraduate work at Iowa State University led to more detailed graduate studies in animal nutrition at Cornell University (giant pandas for MS degree; wombats, kangaroos and rabbits for PhD topic). She headed the Department of Wildlife Nutrition at the Wildlife Conservation Society (based at the Bronx Zoo) for 17 years before moving back to the Midwest and overseeing the Nutrition Department at the St. Louis Zoo. She spent additional time working various roles within the pet food (Director of Nutrition and Research, Oxbow Pet Products) and animal agriculture industries (Lead Scientist, Outreach; Africa R&D and Manager, Global Sustainability, Novus International), with field work conducted on 6 continents. She oversees multiple graduate students and serves as honorary faculty at several universities globally, has published over 200 research papers in peer-reviewed journals, and currently consults privately several zoos, companies, wildlife organizations and individuals.
History
In response to a lack of suitable software for dietary management in zoos, her team developed and managed Zootrition™ software over the past 2 decades. Initially supported by a grant from the Institute of Museum and Library services in the 1990s, Zootrition was designated a national standard by the Dutch Federation of Zoos and the Colombian Zoo Association in South America, and recognized as an important resource by the European Association of Zoos and Aquariums. Functionality and design reflected feedback and input from hundreds of users across the globe, including academicians, clinicians, advisors, and colleagues, as well as participants in more than 200 training workshops on three continents.
An upgraded program (Zootrition 2.0) was funded through a Conservation Endowment Fund grant from the American Zoo and Aquarium Association, as well as support from the Wildlife Conservation Society. Saint Louis Zoo and the World Association of Zoos and Aquariums assisted in securing the development of subsequent 2.6 and 2.7 versions to incorporate additional data and technical functionality.
This latest version (Zootrition 2020) seamlessly migrates your older version data and edits into the new program and further integrates additional data and technical advances into a more streamlined and comprehensive tool for recording and evaluating diets of wildlife species under our care and commitment. The continued interest, suggestions and promotion of Zootrition by the global wildlife community is sincerely appreciated.
Testimonials
Ana Raquel - Conservation Director of AZAB and member of the Nutrition Committee
"I had the opportunity to meet Dr. Ellen in 2014, during a nutrition workshop organized by the Brazilian Zoos and Aquariums Association, AZAB. Back then, she introduced the Zootrition software and made copies available so that the professionals which attended could put into practice everything they learned. From this moment on, a nutrition committee was organized in AZAB and, besides supporting institutions on the utilization of the software, other workshops were organized, and the analysis of diets offered by the institutions to the species that are part of conservation programs was performed. We can say that Zootrition brought a new perspective to the nutrition of Brazilian zoos and aquariums, and we are very grateful for this opportunity. It's an easy-to-use software, and it has lots of information. For sure, the animals in our care are thankful for it too!"